In Oekraïne hebben ze onze steun op dit moment hard nodig. Zowel de mensen die gevlucht zijn, als degenen die zijn achtergebleven. Miljoenen mensen zijn op de vlucht, gezinnen zijn van elkaar gescheiden en leven in angst en onzekerheid. Om die redenen heeft het Sociaal Fonds van Archive-IT besloten om drie initiatieven te steunen.
Get the Angels Out
Het eerste initiatief dat Archive-IT steunt is Get the Angels Out. Deze organisatie staat op voor de kwetsbare mensen die momenteel nog in Oekraïne verblijven. Dit doen ze door zelf naar de oostgrens van Polen te rijden om Oekraïense vluchtelingen mee te nemen naar het veilige Nederland. Natuurlijk gaan ze niet met lege handen richting Oekraïne. Ze nemen spullen mee die de mensen daar goed kunnen gebruiken. Wanneer het ene team onderweg is naar de grens van Oekraïne, staat er een ander sterk team klaar in Nederland om alles regelen voor de opvang van deze mensen.
Breath Care For Kids
Daarnaast steunt Archive-IT Stichting Breath Care For Kids. Deze stichting zet zich in om kwetsbare kinderen te helpen, zonder onderscheid te maken in religie, huidskleur, afkomst of overtuiging. Stichting Breath For Kids opereert in verschillende landen, waaronder Oekraïne, en werkt samen met lokale organisaties. Ze zorgen onder meer voor voorzieningen op het gebied van gezondheid, educatie, veiligheid en geestelijk welzijn. Zo geeft de stichting kinderen in uitzichtloze situaties een kans om alsnog een evenwichtige toekomst op te bouwen. Met de oorlog in Oekraïne bieden ze extra hulp aan kinderen en daarnaast vangen ze gezinnen op in schuilkelders.
Shirtveiling van VVV-Venlo
Ook VVV-Venlo zet zich in voor de mensen in Oekraïne door middel van een shirtveiling. De wedstrijdshirts van de wedstrijd: VVV-Venlo tegen FC Emmen werden hiervoor geveild. Het bijzondere aan deze shirts is, dat ze ter ere van het 50-jarig bestaan van stadion De Koel werden geveild. Archive-IT heeft dit initiatief gesteund door een shirt te kopen op de veiling. Het shirt wordt ingelijst en krijgt een mooi plekje in het bedrijf.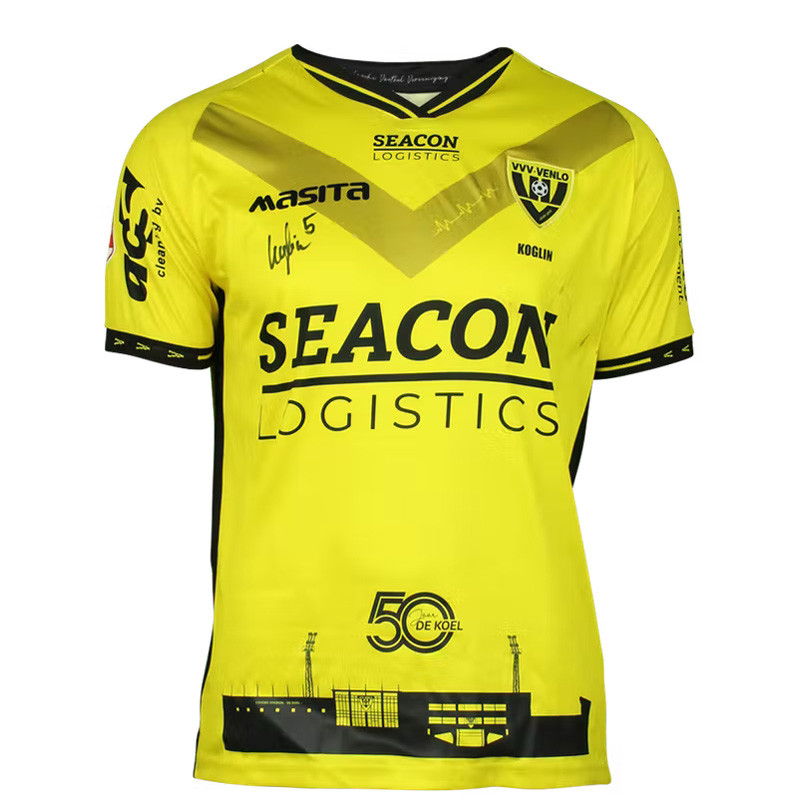 Ook ú mag goede doelen aandragen die een eenmalige donatie kunnen gebruiken. Deze worden door het Sociaal Fonds in behandeling genomen en wie weet kunnen wij helpen. Samen staan we sterk! Neem contact met ons op via info@archive-it.nl.
Inschrijven voor nieuwsbrief